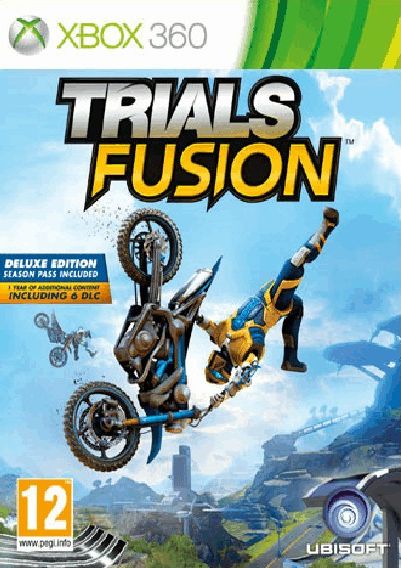 Trials Fusion XBLA XBOX360
RedLynx is back with another game from the Trials franchise called Fusion which will also be available for the next-gen consoles, PS4 and Xbox One. The scene group MoNGoLs released the Xbox 360 version with the standard XBLA procedure for RGH and JTAG console users. Have fun! Trials Fusion melds the classic, proven Trials formula of simple yet addictive competition with the social and visual breakthroughs of the next generation of gaming. The first Trials game designed for multiple platforms from day one forges ahead with a first-in-class physics trick system, next-gen social features, and much more. Trials Fusion retains and enhances the vital features from the best-selling and critically acclaimed games.
Take on an unlimited array of platform-racing challenges in the unreal world of Trials Fusion. Using your skills to traverse across obstacle-laden, ramp-ridden courses, you must strive to set track records against the best Trials players around the globe. Whether you're racing alone, with friends, or in a global tournament, competition is always around you. And racing on official courses is just the beginning.

A rich world of custom courses — built by some of the most creative and skilled content creators in gaming — awaits those who are continually searching for a new, insane track to conquer. And with long-term support of fresh features and content, the Trials experience will continue to expand and challenge players in new and exhilarating ways.
Features:
BEST-IN-CLASS PLATFORM RACING. Rock-solid motocross physics and reality-bending course designs come together for an over-the-top racing experience that no other game can provide. Show your fearless side with the brand new FMX tricks system, and choose your path towards victory on branching courses. The finish line is the ultimate goal, but the challenge is everything before it.
UBIQUITOUS COMPETITION. Whether you're racing alone, with friends, or in a worldwide tournament, competition is all around you. Its variety and depth will offer limitless ways to scratch your competitive itch, and the opportunities keep coming. With ongoing support for special tournaments and events, team racing, and much more coming soon, the competition is never ending.
VIBRANT USER-GENERATED CONTENT COMMUNITY . Immerse yourself in a boundless Trials experience with custom track designs made possible by the in-game Editor Mode. With a user-generated content community that boasts some of the most creative and skilled track creators in the world, Trials Fusion offers new track after new track and opens the door to a world of possibilities only the crazy minds of Trials fans can bring.
The essence of trials
Trials Fusion retains and enhances the vital features from the best-selling and critically acclaimed games Trials Evolution and Trials HD:
Intuitive and addictive physics gameplay
Multiplayer
Skill games
Track Editor & Sharing
Leader Boards
Global Competition

Trials evolved
Trials Fusion will also forge ahead with a first-in-class physics trick system, next-gen social features, and much more.
Futuristic, high-tech world
FMX Physics Tricks System
Next-gen visuals
New social features
Linked to mobile, the right way
Genre: Racing, Platform
Release Date: Apr 16, 2014
Platform: PC | Xbox 360 | Xbox One | PS4
Gameplay Modes: Single-Player, Multi-Player
Developer: RedLynx
Ratings: MetaCritic: n/a

Trials.Fusion.XBLA.XBOX360-MoNGoLS
External HDD | 1.47 GB | mgl-trfu
Requires: JTAG / RGH
Download
http://ul.to/updhxpqr/Trials.Fusion.XBLA.XBOX360-MoNGoLS.rar
OR
http://rapidgator.net/file/48c63c29ca5c6fc2cce3f2701646dfa3/Trials.Fusion.XBLA.XBOX360-MoNGoLS.rar.html
OR
https://www.oboom.com/4LL0A267/Trials.Fusion.XBLA.XBOX360-MoNGoLS.rar