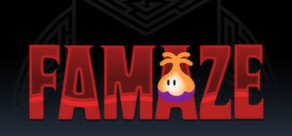 Famaze v1.0
Scene group TE has released a new small indie game: "Famaze", for pc. Famaze is a retro themed puzzle adventure game. The game combines charming SNES era visuals and sound, randomized "roguelike"mazes, strategy and puzzles, rpg elements, and a fun lighthearted story. The game is simple to pick up but offers endless replay because of the procedural nature of its levels. The story of the game involves a mad king who has captured the happy rutabagas of the land and has turned them into evil monsters to guard his kingdom while he searches for the elusive perfect recipe for rutabaga pudding. The heroes of the land (a knight, thief, or wizard) must delve deep into the king's domain to rescue the rutabagas, find the gem of truth to unravel the secret recipe and put a stop to the mad king's plot.
Features:
Procedurally generated puzzle dungeons created infinite replayability.
Environmental variables including treasure chests, pit traps, healing blocks, and magic beacons.
3 heroes to choose from with powerful unique abilities.
Useful items including potions, fireballs, teleport orbs, and magic crystals.
Collectible hidden artifact pieces meta game with artifact summary screen.
A fun, lighthearted story line.
An original soundtrack including 23 unique tracks by Disasterpeace
Detailed stat tracking including gold, high scores, types of monster kills, etc.
Publisher: Oryx Design Lab
Developper: Oryx Design Lab
Genre: Casual, Indie, RPG, Strategy

Release name: Famaze.v1.0-TE
Size: 41.600 MB
Install Notes
Install Setup.exe. No crack is required, this is RETAIL. Launch game from the shortcut.
Download
http://turbobit.net/bd7dlqdak6ji/Famaze.v1.0-TE.rar.html
OR
http://ul.to/kvoz5ris/Famaze.v1.0-TE.rar
OR
http://bitshare.com/files/s3s0qfw1/Famaze.v1.0-TE.rar.html
OR
http://rapidgator.net/file/7c69a392035bd09df562e9bab324621a/Famaze.v1.0-TE.rar.html